Le Dindon's magic putty has been adopted by hundreds of people, each for their own reasons. For some, it's a great way to relax, reducing the stress and need for cigarettes. For others...It's an excuse to return to childhood. It's good for those who have forgotten how to laugh or what it was like to be a kid!
Delivered in a small decorated metal box containing 80 grams of putty, it's perfect for slipping into your pocket and taking it everywhere!
[ Discover its features ]
[ Watch the videos ! ]
[ Check out the pictures ]
SOME EXTRAORDINARY FEATURES
It's a paste...
Squeeze it, twist it, strech it to infinity. With slow movements, it's like a viscous paste.
... which rebounds
Roll it into a ball and throw it against a hard surface: it bounces back like a rubber ball. Also, release your ball of putty from any height, and watch it bounce back up to 80% of the original height it was dropped from, without any deformity occuring to the ball!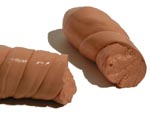 ...and breaks like a solid
If you quickly yank the putty into two halves it will break like a solid. Not to worry, though you can reconnect the two halves by joining the two ends or squishing the two halves together.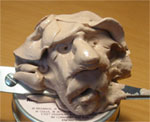 Model, carve, draw
Magic Putty is indeed a unique material that fuels all sorts of creative talents. Perfect for hours of fun!

Stick, remove, stick...
Stick the putty to any solid surface (for example a wall or the ceiling). To remove: just peel, no force is required, no sticky pieces left to clean up. For long term entertainment stick it on the ceiling, sit back, and watch how gravity effects your putty as it slowly moves toward the floor. There's a different shape every time!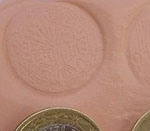 Make Impressions, Take Prints
Magic Putty is able to make all kinds of impressions (coins, fingerprints, etc...) with surprising precision. It can even take ink prints off paper (books, newspaper, etc...). Go ahead, experiment, be creative!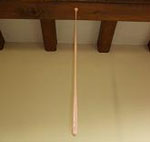 Check out the effects of time!
Place the putty on any object. Given enough time, it will move slowly (as though it's melting) until it fits the object like a glove. This is the reason it always ends up settling comfortably at the bottom of its small box.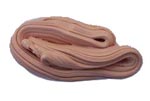 Make silly noises
Yes, the putty even talks! Fold your putty in different directions making layers and leaving air bubbles between each of the folds. Then mix the putty in your hands and listen to it crackle and pop...It's a fun trick that will keep your friends guessing "How the beep did you do that"?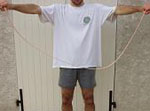 Innovate, always....
It's impossible to list all the possible uses Magic Putty has. Use your imagination and create a style all your own. Send us photographs of you and your ideas, the best will be published here on our site for everyone to see!!!
Want to know more about it?
[ Watch the videos ! ] [ Check out the pictures ! ]
---

Stop smoking, using Magic Putty! To help with this difficultg problem, serveral organizations and universities have recommended that smokers play with putty to keep their hands and minds occupied, in an effort to help them stop smoking.
At 9 € a pop, it's the price of a packet of cigarettes. When you've got putty in your hands, you hardley think of cigarettes, it's too much fun!