Gift certificates
Not sure what to buy?
This gift is the perfect solution for :



- those who aren't quite sure of what to give


but want the very best!



- those eternally late buyers


who need a gift right away



- companies


for their employees



- works coucils


for their members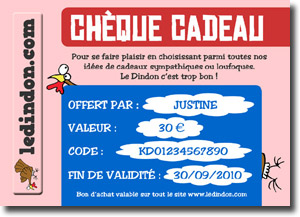 How does it work?

You choose the amount of the gift certificate and pay by either credit card or check. There is no additional cost: the amount you pay may be fully utilized by the recipient.

You immediately get the voucher code (after payment is received) and you can print your gift card. A great option for those 'down to the last minute shoppers'!!!

You receive your gift card by mail or you can send it directly to the recipient. If you receive the gift card, you can personalize it with a message on the back. Or we can type a message from you, if you decide to send it directly to someone.

The lucky recipient can use his/her gift card for any gift on our site for up to a year by simply entering the code when placing their order. If the amount of the order (with shipping) is less than the actual gift card there is no charge to the client. If the amount ordered is higher than the actual gift card, the client will just pay the difference.